Falafel Wine and Bistro: A Trip to the Mediterranean/Israel Without Leaving Coral Springs, Fl.
I was smoking cigars at Smoke Inn VI with my new buddy, Marty Nadler. Come to find out Marty has worked for decades in NYC and Hollywood, Ca. as a writer, producer, and actor. I'm not going to be the Wikipedia of his life, but you can read about him here: https://vineyardgazette.com/news/2011/08/18/and-hell-do-it-his-way-yes-his-way
I told Marty about my Food Blog and we immediately started talking food. I mentioned a place called Falafel Wine and Bistro and how much I enjoyed it. I told him they had the best Israeli Cuisine around. Marty said, "I've never had Israeli food before."  I was confused because he told me he was from the Bronx and he was Jewish. Being naïve, I asked "How can say you are Jewish if you never had food inspired by Israel?". He laughed and said "Not all Jews eat Israeli food."  Right away I said, "Well, we should go have some and then write a food review about our experience". His eyes light up and said, "You know I've never written a food review". He continued to say, "This could be fun". We set a date for lunch and my 21 year old son, Hunter, was gonna tag along.
The Experience
At the last minute my dad decided he wanted to come. He overheard Hunter and I talking about this lunch date and I couldn't say no because he lives with my wife and I. ( Long story my father has been living with us almost 6 years. He is a pain in my ass, but my family loves him and we take care him). We pick up Marty and head to the restaurant.
When we arrived it was packed. The restaurant holds about 60 people and we got one of the last tables. I was pretty impressed with the crowd since it was after 1:00 pm on a Monday.
From this point forward I am going to let Marty take over the review. Without further delay here is Marty!
I can't believe that I….a New York Jewish guy, just got turned on to an Isreali restaurant by an American Samoan guy. My new friend and food guru, Dan I Cook, looked me in the eye at our local cigar bar and said, "I can't believe you've only eaten Schwarma once!!!"
So just a few days later, he took me to The Falafel Bistro Wine Bar.
I wish I could say the place was a well kept secret, but almost every table was filled. Upon entering the restaurant, the wonderful smells and very nice ambience captured me immediately. The only thing I worried about was having to wait for a table. However, the hostess came right over and sat us down to a clean, comfortable four top. Our server, Nicole was cheerful, neatly dressed, and knowledgeable of the menu.
When it came to ordering, I yielded to Dan. He was kind enough to run his choices by me. We started by sharing a few appetizers. Our first arrival was their sample cups of soup. Out of the Lentil, Split pea, and Sweet potato, the Sweet potato was my favorite. It tasted the best to me and it had the nicest texture. We then shared the Mediterranean Plate which consisted of hummus, pita bread, falafel balls, babaganoosh, Israeli salad, and the most delicious sauces. My favorite sauce was the Mango curry. The other appetizer was Turkey Meatballs whose sauce and spices made them a clone to real "meat" balls.
The next dish arrived. It was a Chicken Schwarma with grilled eggplant. It was sooo good. I detected little pieces of Pastrami mixed in but it could have been a Jewish hallucination. We also ordered the daily special. Today it was Israeli Salad with falafel, pita, and hummus. The special had a five dollar price tag and we couldn't believe the size of the portion. As we were finishing up, Lauren, the co-owner came over to see how we were doing.
We told Lauren and her husband, Ilan (co-owner and chef), how wonderful everything was. They were very humble and appreciative. I will say, Ilan is so creative with the different tastes on the menu.
Lauren mentioned that they have plans to expand the kitchen. They don't have plans to expand the dinning room. But no worry…the food at the Falafel Bistro Wine Bar is well worth waiting for. I give it 4 Beers with a Rainbow….and a pot of Schwarma at the end of it!
Thank you Marty for the outstanding review!
I have been to this restaurant several times and I always walk away saying, the flavors of the food are so fantastic and complex. It would be very difficult to replicate this at home. It reminds me why I go out to eat in the first place. I don't want to eat food I can easily make at home…and I'm a decent cook. My favorites were the  turkey meatballs, chicken  Schwarma, the hummus, and the falafels. The icing on the cake is like Marty said, the three homemade sauces that are served in squeeze bottles. Curry,  Tanini, and an Israeli Hot Sauce. You have to try these on your  falafels… Man they are outstanding! They need to bottle them for sale! With that said, I easily rate this place 4 Beers. For my vegan friends out there, if you haven't eaten here yet you are crazy. This place is a "must go" for a vegan. Many meatless dishes on this menu.
I want to thank owners Ilan and Lauren Cohen for such a delicious meal. We are so lucky to have your restaurant in Coral Springs, Fl. I highly recommend this place. Remember to tell them Marty and Dan I Cook sent you and Stay Hungry!
Four beers = Outstanding
Three beers = Good
Two beers = OK
One beer = Needs work
Zero beers= Sucks (No beer is never a good thing.)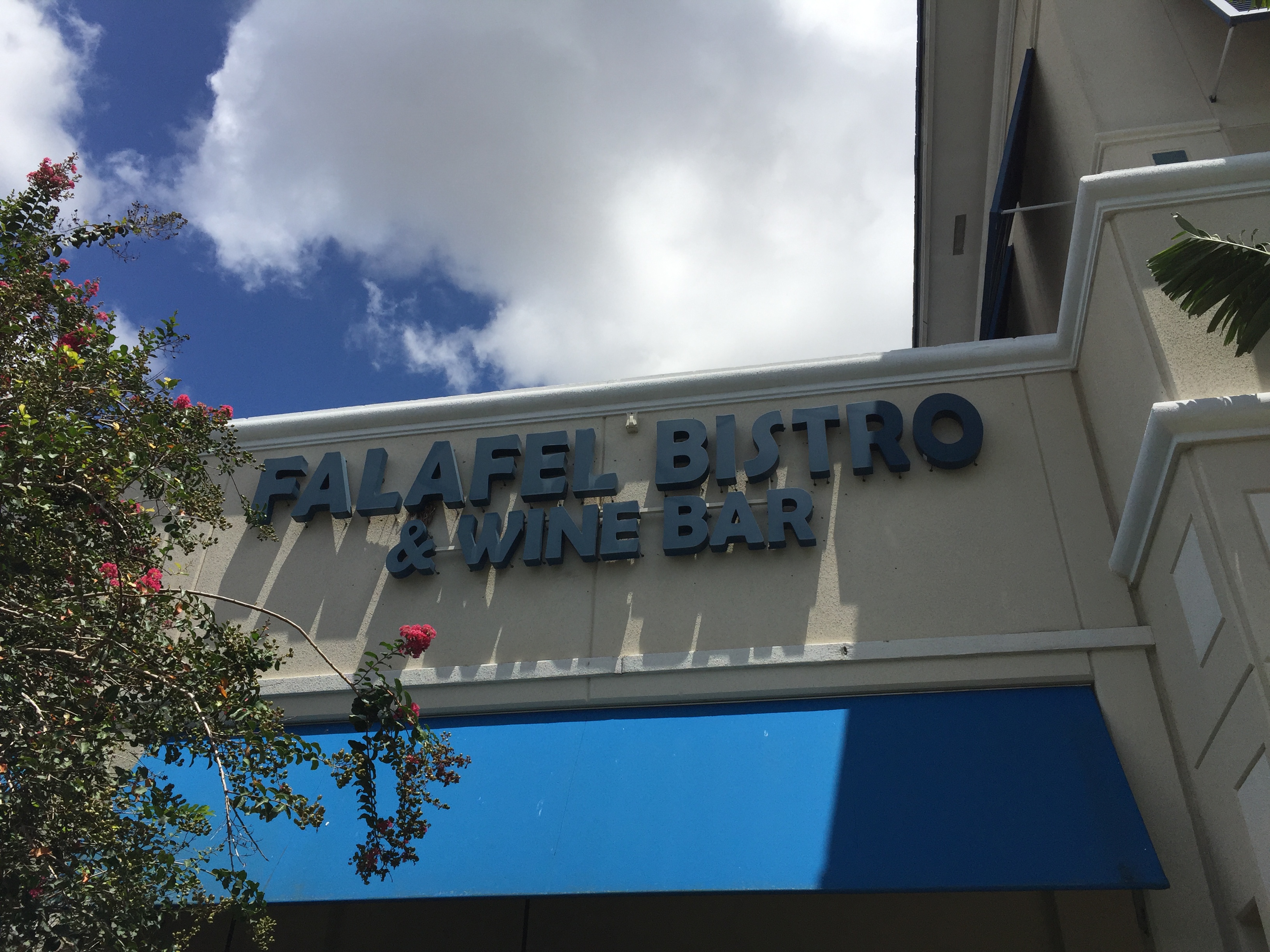 Falafel Bistro & Wine Bar
5677 Coral Ridge Drive
The Shoppes at Heron Lake
Exit 14 off the Sawgrass
Coral Springs, FL 33076