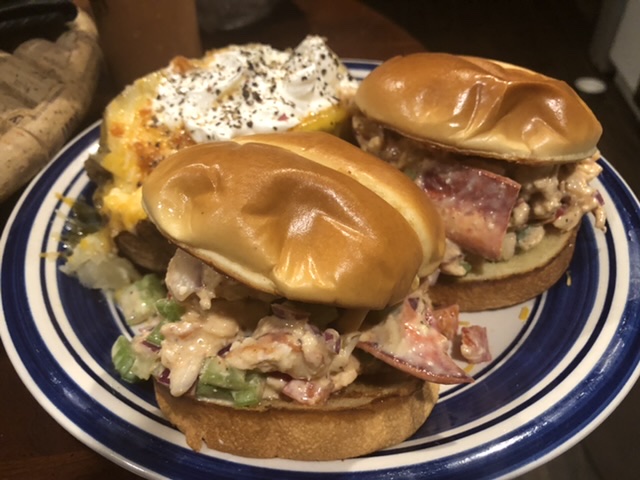 1 pound fresh cooked and then cooled lobster meat (average ¼ pound per person), diced into chunks
2 TBS nonfat plain greek yogurt
1 tsp old bay seasoning
Squeeze of half a lemon
¼ C of the following: chopped red onion, chopped green scallion, chopped celery, diced water chestnuts, chopped sweet red pepper
3 medium-thick pieces of bread of your choice, toasted and buttered
This is an extremely simple and refreshing recipe I came up with on my own. Since I hate mayo I substituted it with the Greek yogurt. I loved this alteration. You can fiddle with the heat by adding some cayenne pepper to the mix or some of you favorite hot sauce. I went to Doris's Italian Supermarket in Coral Springs Fl. and bought my lobster live and they steamed it me for no extra charge. The hardest part of this recipe was removing the lobster meat from the shell. You can serve it right away but I would let it sit for at least two hours to let the flavors mix. Make it and play with the recipe to your liking. Stay hungry!